Regular price
Sale price
$27.99 USD
Unit price
per
Sale
Sold out
Philodendron Micans 'Velvet' is an indoor tropical plant that is sure to make a statement in any space. This evergreen perennial has dark green leaves with a velvety texture and a rich, iridescent sheen that shimmers in the light. Its trailing vines can reach up to three feet long, and its heart-shaped leaves can grow up to eight inches wide. The Philodendron Micans 'Velvet' is easy to care for, needing only bright, indirect light, occasional watering, and occasional misting. Its lush, velvet texture and unique coloring make it an eye-catching addition to any room, and its hardy nature ensures it will be a lasting part of your home.
Botanical Name: Philodendron hederaceum

Common Name(s): Velvet Philodendron, Philodendron Micans, Heart-Leaf, Sweetheart Plant
Description: Philodendron hederaceum is also known by the names Heart-Leaf Philodendron and Sweetheart Plant. This species originates from Central America and parts of the Caribbean and is a commonly grown houseplant in many places. This type of philodendron plant has a velvet-textured heart-shaped leaves that are greenish bronze with reddish brown undersides. It produces long vining stems and one of Instagram's most trending plants
*4inch nursery pot 
Shipping & Returns

We offer a 30-day guarentee. Fulfillment takes approx 2-4 days and shipping 3-5 days from greenhouse to doorstep. Nov-Mar we recommend adding winter plant shipping protection to your order or it will not be covered by our 30-day guarentee.
Care Instructions

Water when the top inch of soil is dry. Place in bright, indirect light. Fertilize monthly in the spring & summer. Prune as needed, taking care not to damage leaves. Mist leaves regularly to increase humidity. Keep away from cold drafts. Enjoy your beautiful philodendron micans!
Share
View full details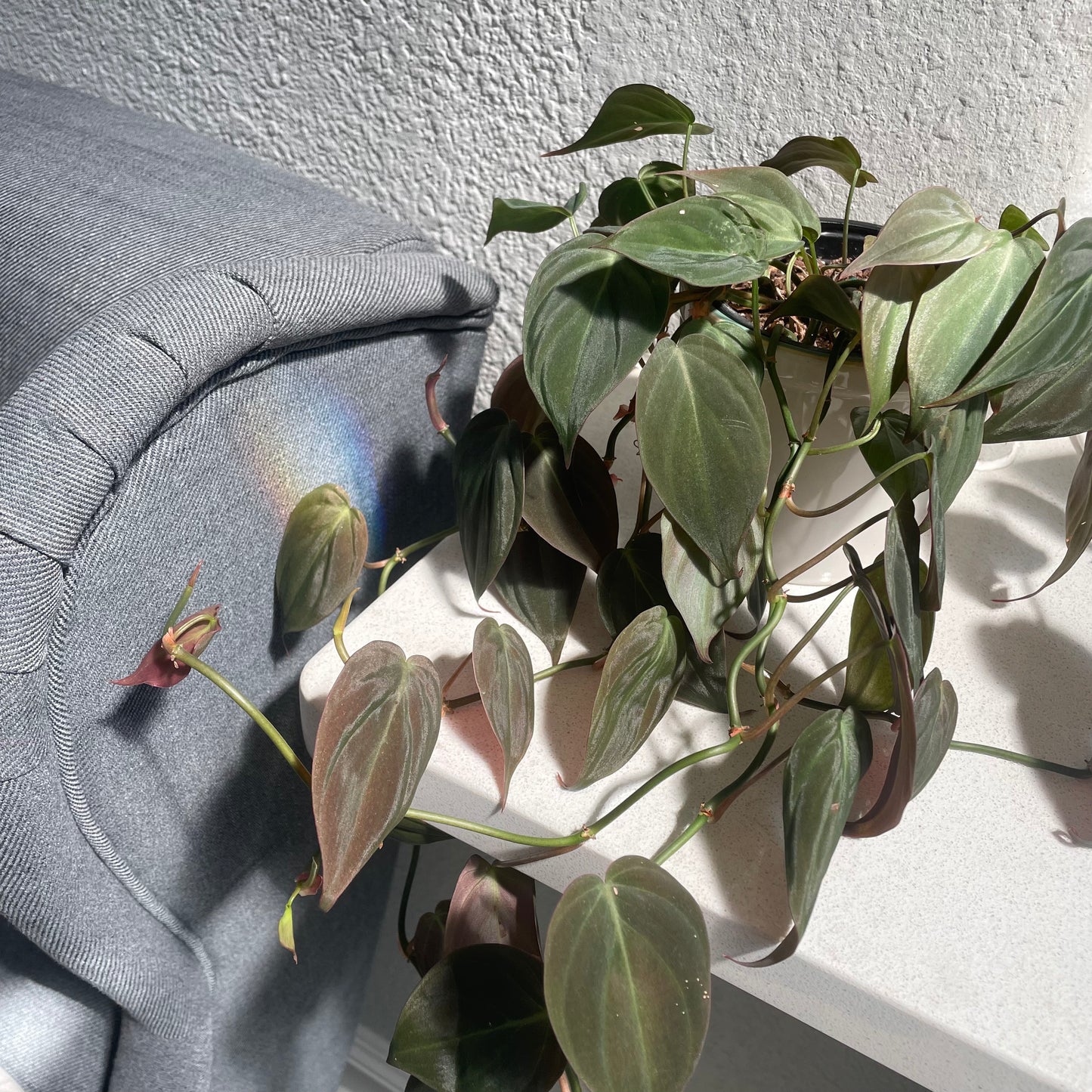 "A beautiful plant is like having a friend around the house." — Beth Ditto
30-Day Guarentee

Shop with confidence knowing your plant is guarenteeed to arrive in wonderful shape or we will replace it!
Find the Perfect Plant for your Space
Discover your ideal plant match with our interactive quiz. Answer a few simple questions and unlock personalized plant recommendations tailored to your specific environment and preferences. Transform your space with the perfect green companion!
Take the quiz