Regular price
$36.99 USD
Sale price
$29.99 USD
Unit price
per
Sale
Sold out
The Dieffenbachia Camille Dumb Cane Plant is an excellent choice for both indoor and outdoor spaces. This hardy plant is easy to care for and provides beautiful, vibrant foliage all year round. Its large, glossy leaves are a vibrant green with white and yellow accents, making it a stunning addition to any home. It enjoys bright, indirect sunlight, and thrives best when watered regularly and allowed to dry out between waterings. Its thick, sturdy stems can support the weight of the large leaves, making it an ideal houseplant. The Dieffenbachia Camille Dumb Cane Plant is also known for its air purifying properties, helping to filter out pollutants in the air. With its low maintenance and air purifying qualities, the Dieffenbachia Camille Dumb Cane Plant is an excellent choice for those looking to add a touch of vibrant color and freshness to their home.
Botanical Name: Dieffenbachia Camille
Common Name(s): Dumb Cane
Description: The Dieffenbachia Camille also known as the Dumb Cane has large green leaves and thrives in a large range of environments. Yellow and green leaves make for a great addition to any area. 
Shipping & Returns

We offer a 30-day guarentee. Fulfillment takes approx 2-4 days and shipping 3-5 days from greenhouse to doorstep. Nov-Mar we recommend adding winter plant shipping protection to your order or it will not be covered by our 30-day guarentee.
Care Instructions

Dieffenbachia Camille 'Dumb Cane' is a stunning houseplant that can thrive in a variety of conditions. To keep your plant looking its best, make sure to provide it with plenty of indirect light and water when the soil is dry to the touch. Fertilize every few weeks during the spring and summer months, and prune any dead leaves or stems. If the leaves become yellow or discolored, it may be because of too much direct sunlight or the soil may be too wet. Make sure to keep it in a spot that is out of
Share
View full details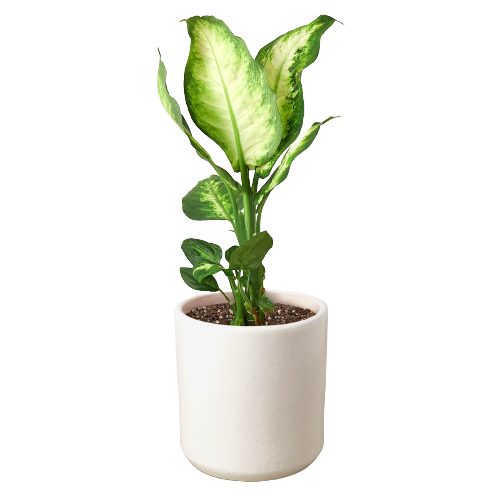 "A beautiful plant is like having a friend around the house." — Beth Ditto
30-Day Guarentee

Shop with confidence knowing your plant is guarenteeed to arrive in wonderful shape or we will replace it!
Find the Perfect Plant for your Space
Discover your ideal plant match with our interactive quiz. Answer a few simple questions and unlock personalized plant recommendations tailored to your specific environment and preferences. Transform your space with the perfect green companion!
Take the quiz