Regular price
Sale price
$29.99 USD
Unit price
per
Sale
Sold out
Notify Me When Available
The variegated hoya rope plant is a rare and exquisite botanical treasure that deserves a place in any discerning plant-lover's collection. With its stunning foliage, this plant is sure to make a bold statement in any living space.

The leaves of the variegated hoya rope plant are its most striking feature, displaying a mesmerizing interplay of rich greens and creamy whites that swirl and dance across the plant's stems. This variegation creates a captivating, otherworldly appearance that will capture the imagination of all who behold it.

Beyond its striking beauty, the variegated hoya rope plant is also incredibly resilient and easy to care for. This tough and versatile plant is able to thrive in a wide range of conditions, making it a perfect choice for those who may not have a green thumb. Whether you're looking to add a touch of sophistication to your home or office, or simply seeking a unique and elegant plant to enjoy in your garden, the variegated hoya rope plant is the perfect choice.

So why wait? Indulge in the beauty and elegance of the variegated hoya rope plant today and enjoy its stunning presence in your home or office for years to come.Botanical Name: Hoya Hindu Rope Variegated

Common Name(s):
Hindu Rope, Porcelain Flower, Wax Plant, Honey Plant, Krinkle Curl
Description:
Unique Hindu rope plants, Hoya carnosa compacta, are draping succulent vines that produce clusters of star-shaped waxy flowers. The thick, twisted, curly, cupped leaves of a Hindu rope plant are why it's often called Krinkle Kurl. Hindu rope plants can be found in solid green or with variegated leaves. This type of hoya plant is very easy to care for as long as you have plenty of light and are careful with your water.
*Limit 2 Per Customer*
Shipping & Returns

We offer a 30-day guarentee. Fulfillment takes approx 2-4 days and shipping 3-5 days from greenhouse to doorstep. Nov-Mar we recommend adding winter plant shipping protection to your order or it will not be covered by our 30-day guarentee.
Care Instructions

Water: The Hoya Rope Plant has moderate water needs. Water the soil thoroughly when the top inch of soil is dry, and be sure not to let the soil become too soggy.

Light: The Hoya Rope Plant needs bright, indirect sunlight. Place the plant near a window that receives plenty of light, but out of direct sunlight.

Temperature: The Hoya Rope Plant prefers temperatures between 65 and 75 degrees Fahrenheit. Avoid placing near hot or cold drafts.
Share
View full details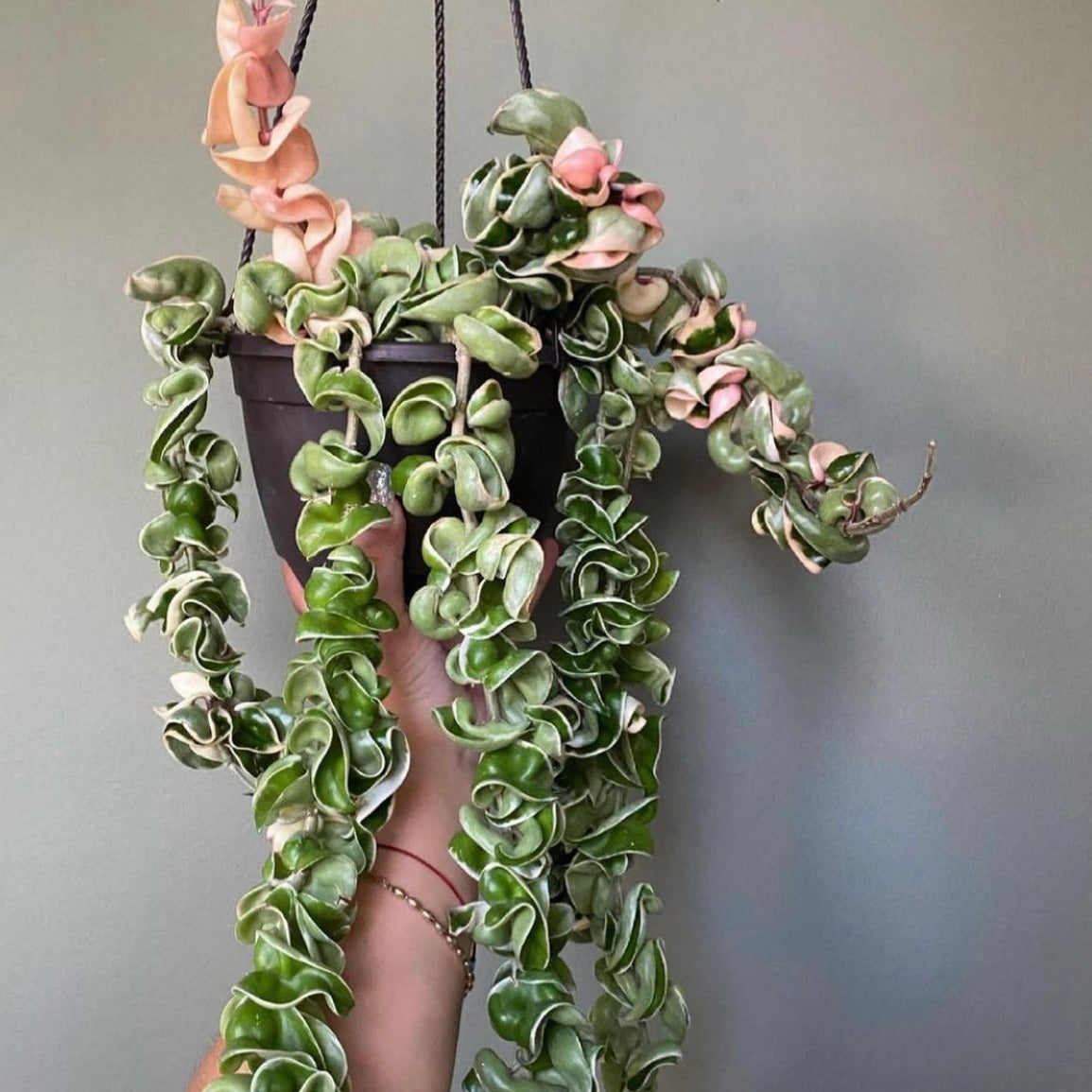 Hoya 'Rope Plant' Variegated Rare
Love it!!
Beautiful plant adds beauty to my collection!
"A beautiful plant is like having a friend around the house." — Beth Ditto
30-Day Guarentee

Shop with confidence knowing your plant is guarenteeed to arrive in wonderful shape or we will replace it!
Find the Perfect Plant for your Space
Discover your ideal plant match with our interactive quiz. Answer a few simple questions and unlock personalized plant recommendations tailored to your specific environment and preferences. Transform your space with the perfect green companion!
Take the quiz