Regular price
Sale price
$32.99 USD
Unit price
per
Sale
Sold out
 If you're looking to bring a touch of the tropics into your home, the parlor palm is the perfect plant for you! With its delicate, feathery fronds and dainty stature, this plant adds a touch of elegance to any room. Plus, it's incredibly easy to care for and thrives in a range of lighting conditions, making it a great choice for beginners or busy individuals.

Not only is the parlor palm a beautiful addition to your home décor, it also has a number of health benefits. As it grows, it naturally cleans the air by removing toxins and increasing humidity. This makes it an excellent choice for those who suffer from allergies or dry air.
So why wait? Add a parlor palm to your home and enjoy the beauty and benefits it brings. You won't be disappointed!
Botanical Name: Chamaedorea elegans
Common Names: Parlor palm, Neanthe bella palm

Description: The parlor palm is a palm tree native to Southern Mexico and Guatemala. This tropical plant has been cultivated as an indoor plant due to it being able to thrive in low light conditions and is also an excellent air purifier. 
Shipping & Returns

We offer a 30-day guarentee. Fulfillment takes approx 2-4 days and shipping 3-5 days from greenhouse to doorstep. Nov-Mar we recommend adding winter plant shipping protection to your order or it will not be covered by our 30-day guarentee.
Care Instructions

To care for a parlor palm house plant, place it in a location that receives bright, indirect light. Water the plant consistently, allowing the soil to dry out slightly between waterings. Keep the plant in a location with temperatures between 65-75°F (18-24°C) and moderate humidity. Use a well-draining soil mix and fertilize every two to four weeks during the growing season. Remove any dead or damaged leaves and watch for common houseplant pests such as aphids and spider mites. With proper care,
Share
View full details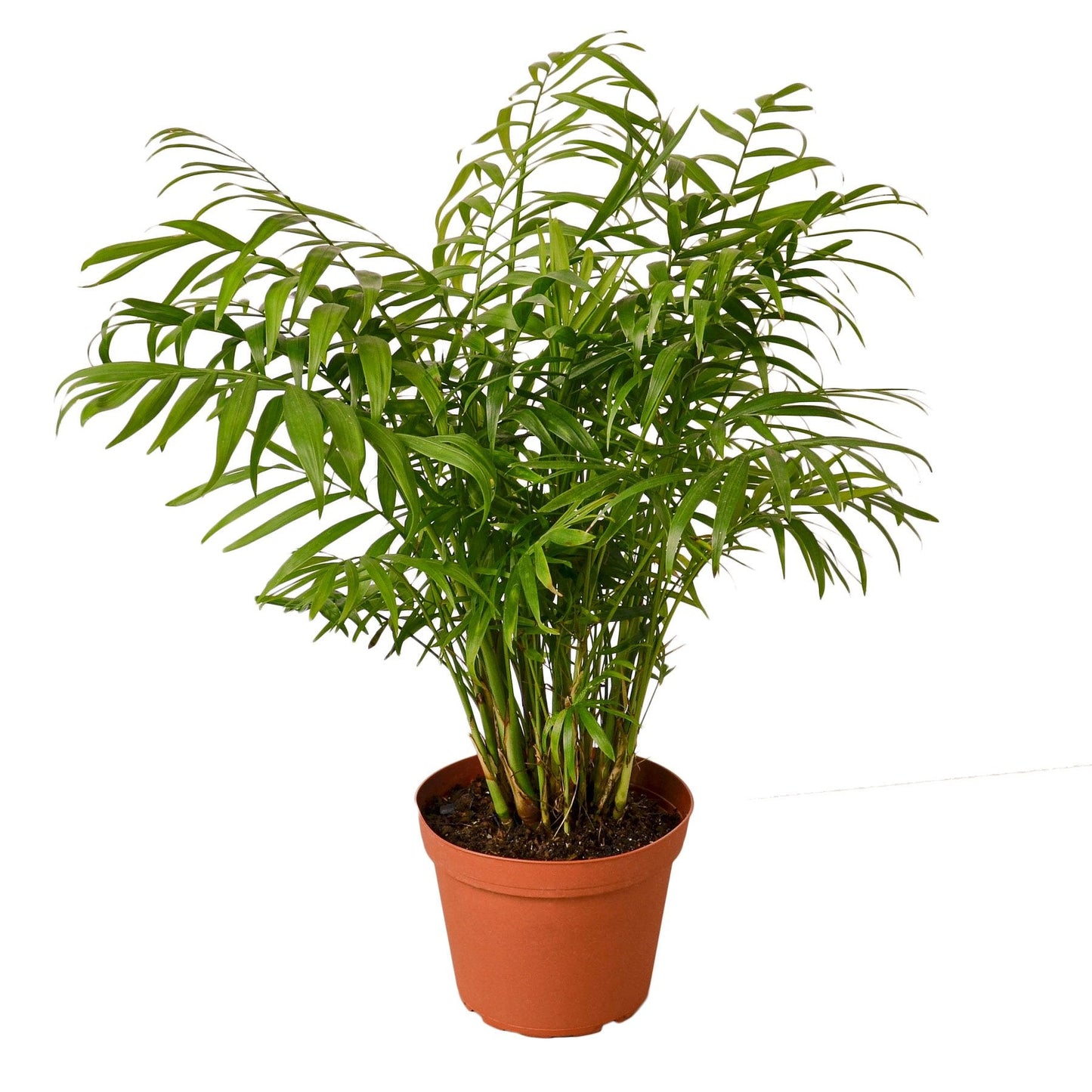 Perfect plants!
Plants arrived very safely and in great condition! They were a decent size as well, lots of healthy leaves. The prices were reasonable and I'm very pleased with my purchases.
Wonderful
I absolutely love this palm baby! Arrived healthy and on great packing. Fast shipping and I'm very happy with this purchase!
"A beautiful plant is like having a friend around the house." — Beth Ditto
Dedicated Customer Service

Helping you cultivate a greener space for an elvavted well-being.

30-Day Guarentee

Shop with confidence knowing your plant is guarenteeed to arrive in wonderful shape or we will replace it!