Regular price
Sale price
$19.99 USD
Unit price
per
Sale
Sold out
Botanical Name: Euphorbia pulcherrima 'White'
White Poinsettia - The Perfect Touch of Winter Elegance
Description:
Embrace the holiday spirit with our stunning White Poinsettia Plant, a symbol of peace and joy during the festive season. This exquisite plant, with its pristine white bracts and lush green leaves, adds a touch of elegance and serenity to any space, making it a must-have for your holiday decor.
Key Features:
Elegant White Bracts: The White Poinsettia is renowned for its beautiful, creamy white bracts that resemble petals, contrasting beautifully with its deep green foliage.

Versatile Holiday Decor: Perfect for creating a serene winter theme in your home or office. It pairs wonderfully with traditional red poinsettias or stands out on its own as a symbol of winter's beauty.

Long-Lasting Display: With proper care, enjoy its beauty throughout the holiday season and beyond.

Air-Purifying Qualities: This plant not only adds visual appeal but also helps purify the air in your indoor spaces.

Ideal Gift: A thoughtful and elegant gift for friends, family, or colleagues during the holiday season.
Decorating Tips:
Create a Focal Point: Place your White Poinsettia in a prominent location like a dining table centerpiece or a festive windowsill display.

Complement with Decor: Its white and green palette works beautifully with silver, gold, or rustic holiday decorations.

Group for Impact: Arrange multiple White Poinsettias together for a stunning, cohesive holiday display.

Care and Placement: Keep in a well-lit area away from direct sunlight and drafts to maintain its vibrant appearance.
Why Choose Our White Poinsettia?
Our White Poinsettia is more than just a holiday plant; it's a versatile and elegant addition to your festive decorations. Its serene beauty and air-purifying properties make it a popular choice for enhancing the holiday atmosphere in any setting.
Order your White Poinsettia today and transform your space into a winter wonderland of elegance and tranquility. 
*Leaves may change color under different lighting environments*
Shipping & Returns

We offer a 30-day guarentee. Fulfillment takes approx 2-4 days and shipping 3-5 days from greenhouse to doorstep. Nov-Mar we recommend adding winter plant shipping protection to your order or it will not be covered by our 30-day guarentee.
Care Instructions

White Poinsettia Care: Thrives in indirect, natural light. Avoid direct sunlight to maintain vibrant bracts. Water when soil feels dry to the touch; do not overwater. Ideal temperatures range from 65-70°F. Keep away from drafts and extreme temperatures. After blooming, reduce watering and place in a cool, dark area for a period of dormancy. Fertilize lightly in the spring to encourage new growth. Perfect for adding a touch of elegance to your holiday decor.
Share
View full details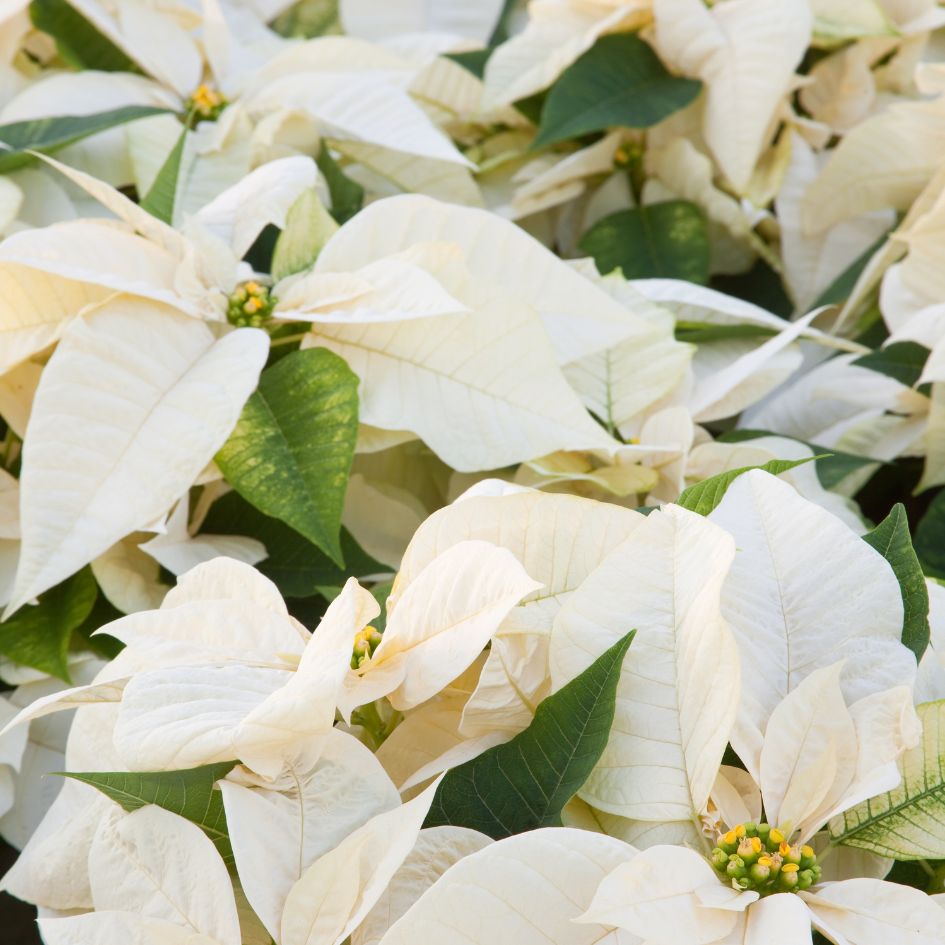 "A beautiful plant is like having a friend around the house." — Beth Ditto
30-Day Guarentee

Shop with confidence knowing your plant is guarenteeed to arrive in wonderful shape or we will replace it!
Find the Perfect Plant for your Space
Discover your ideal plant match with our interactive quiz. Answer a few simple questions and unlock personalized plant recommendations tailored to your specific environment and preferences. Transform your space with the perfect green companion!
Take the quiz