Regular price
Sale price
$34.99 USD
Unit price
per
Sale
Sold out
The Epipremnum Aureum, (PothoN Joy) is an evergreen, fast-growing climber that is perfect for creating a lush, vibrant look in any home. With glossy, variegated leaves, this plant is sure to make an eye-catching statement in any room. It's an easy-care plant and will tolerate a wide range of conditions, making it ideal for those just starting to explore their green thumb. Plus, it's great for purifying the air of toxins, making it a welcome addition to any home. So, if you're looking for a low-maintenance houseplant that will add a touch of elegance and greenery to your space, then the Epipremnum Aureum is the perfect choice!
Botanical Name: Epipremnum Aureum
Common Names: Devil's Ivy

Description: This Air purifying plant is arguably one of the easiest plants to grow indoors. The pothos grows in a vine like fashion making it a great plant to have in a hanging display to fill up any empty space on a shelf or desktop. This particular variety has shorter, more rounded leaves than a typical pothos, and has a tanish white pattern on the edges of its leaves.
Shipping & Returns

We offer a 30-day guarentee. Fulfillment takes approx 2-4 days and shipping 3-5 days from greenhouse to doorstep. Nov-Mar we recommend adding winter plant shipping protection to your order or it will not be covered by our 30-day guarentee.
Care Instructions

Place the plant in a bright but indirect light spot.
Keep the soil evenly moist, but not soggy.

Fertilize every two weeks during the growing season with a balanced liquid fertilizer.

Prune as needed to promote a healthier plant and reduce the chances of pests.

Watch out for common houseplant pests such as aphids, mealybugs, and spider mites.

Repot the plant when the roots become congested in the current pot.

If the leaves start to turn yellow, check the soil for proper moisture.
Share
View full details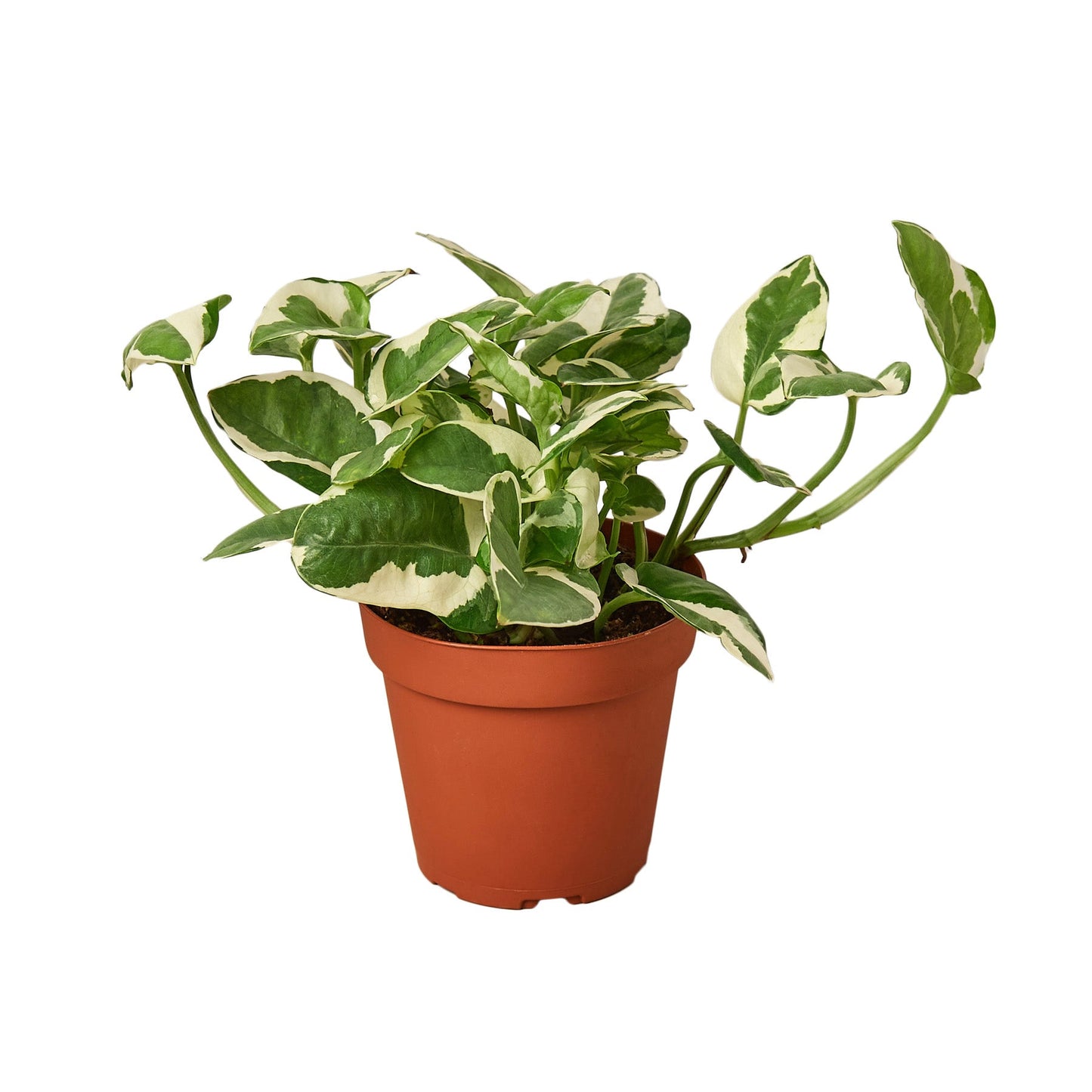 This plant came in healthy and well packaged for the mailing process!
Recommended
I'm so glad I found the Plant Swag Shop. We all know that buying plants online is a hit or miss. I try so many shops and this one is so far the best in term of price and quality. The pictures are the N-joy pothos 6-inch I received right out of the box after more than two week being boxed. Yes you read it right, TWO weeks! One week for shipping and the other week was for my evacuation from Ida Hurricane. I thought my pothos would have been long gone when I came back but it turned out to be a surprise. It's so much fuller and more beautiful than I'd expected. Thank you so much!
N'Joy Pothos
Arrived beautifully wrapped and in excellent shape! Will definitely purchase more plants from this company!
Thank you for your feedback, we hope your loving the new Pothos! #keepgrowing
Over joyed
I received a beautiful and healthy plant. The packaging was excellent and the pot was literally over flowing with cuttings. I ended up diving it into three smaller pots. They are flourishing!
"A beautiful plant is like having a friend around the house." — Beth Ditto
30-Day Guarentee

Shop with confidence knowing your plant is guarenteeed to arrive in wonderful shape or we will replace it!
Find the Perfect Plant for your Space
Discover your ideal plant match with our interactive quiz. Answer a few simple questions and unlock personalized plant recommendations tailored to your specific environment and preferences. Transform your space with the perfect green companion!
Take the quiz