Regular price
$29.99 USD
Sale price
$23.99 USD
Unit price
per
Sale
Sold out
Scindapsus pictus 'Exotica'
Common Name(s): Large-Leaf Pothos Picta, Silver Pothos, Silver Splash Pothos
Description:

This plant is very similar to Scindapsus pictus var. 'Argyreus' but where Argyreus has more defined spots and edge markings, this plant has a wider area of silver splashing across the leaf that is less defined. Holding it under a light, the silver on some leaves appear to shimmer and take on a satin look. Scindapsus pictus is a slower growing vine that is a member of the Araceae family and native to Thailand and the Philippines. Not as common of a houseplant as Pothos, but it does well in normal household environments but will appreciate higher humidity. This species features rounded-heart-shaped leaves that curve to one side at the tip. In time, it can easily grow to lengths of several feet long. For best color, keep in bright, indirect light but it will also do well in shady areas.
Planter is the Modern Ceramic Planter
Shipping & Returns

We offer a 30-day guarentee. Fulfillment takes approx 2-4 days and shipping 3-5 days from greenhouse to doorstep. Nov-Mar we recommend adding winter plant shipping protection to your order or it will not be covered by our 30-day guarentee.
Care Instructions

Light: Scindapsus pictus does best in bright indirect light, such as near a north or east-facing window. Avoid direct sunlight, which can cause the leaves to become scorched.

Water: Water your Scindapsus pictus when the soil is slightly dry. Allow the top 1-2 inches of soil to dry out before watering again. If your plant becomes too dry, its leaves may start to droop.

Temperature: Scindapsus pictus plants prefer temperatures between 60 and 75 degrees Fahrenheit.
Share
View full details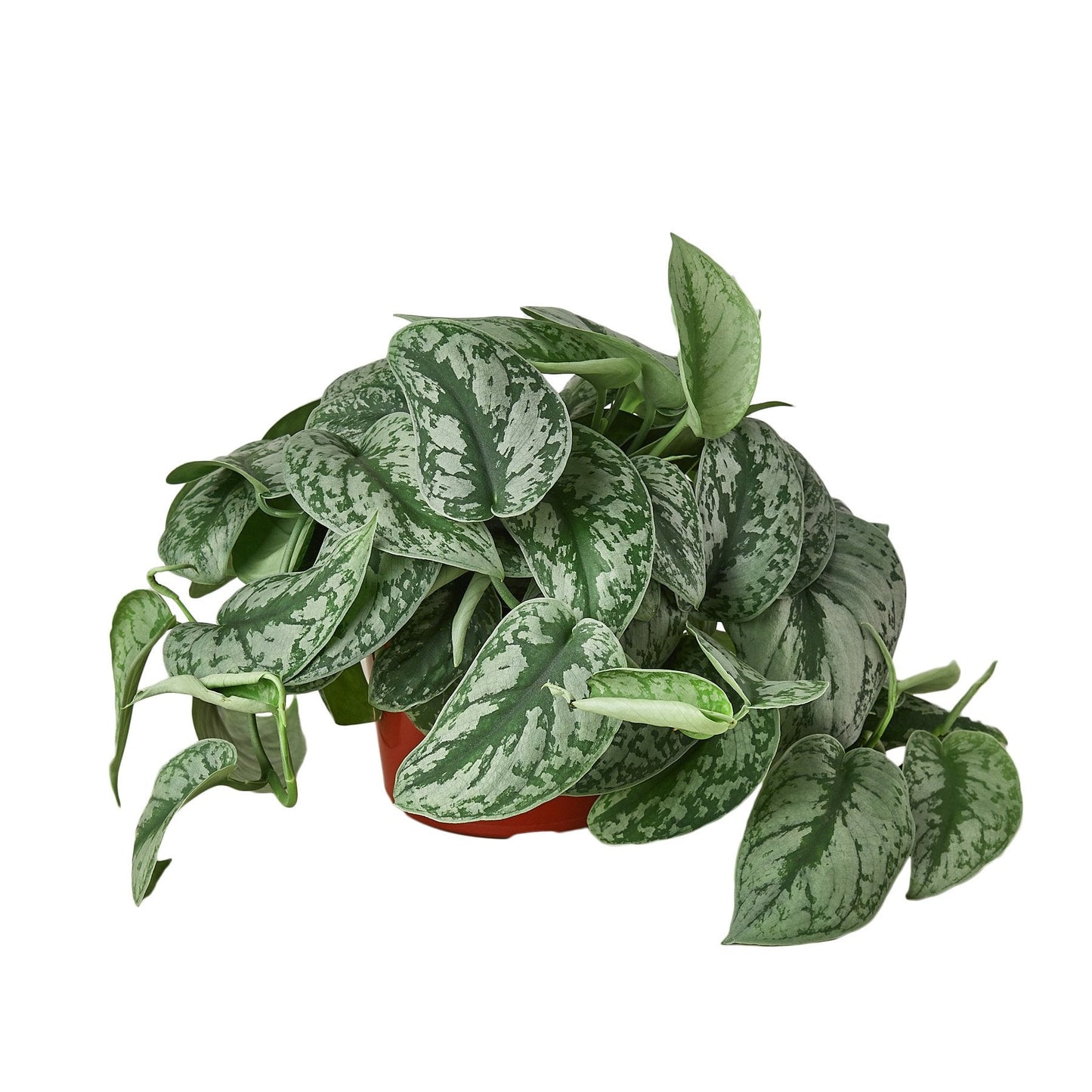 Came well packaged and healthy. This plant is thriving!
Simply Beautiful
I've already picked out a new pot for my new addition. That's how excited I am with miss Silver, yes, I named her. Very pleased with her and can't wait to watch her thrive
Came fast and in good condition!
Pothos Silver Splash
It's beautiful with big leaves!! Love this!
Looks just like the picture
Beautiful silver splash arrived in perfect condition! Leaves are huge, just like the picture. Well packed. I will be buying more from Plant Swag!!
"A beautiful plant is like having a friend around the house." — Beth Ditto
Dedicated Customer Service

Helping you cultivate a greener space for an elvavted well-being.

30-Day Guarentee

Shop with confidence knowing your plant is guarenteeed to arrive in wonderful shape or we will replace it!