Regular price
Sale price
$19.99 USD
Unit price
per
Sale
Sold out
The Schefflera Umbrella Plant is the perfect choice for any home or office setting! This stunning tropical houseplant has lush glossy green leaves that create a stunning umbrella-like appearance. It's a low-maintenance plant that is easy to care for and can thrive in both bright and indirect lighting. This versatile plant can be placed in any corner of the room or used as a centerpiece to add a touch of natural beauty to your home. The Schefflera Umbrella Plant can also help purify the air in your home by removing toxins and pollutants. With its unique and eye-catching shape, this plant is sure to be a conversation starter and make your home look brighter and more inviting.
Botanical Name: schefflera arboricola

Common Names: Dwarf umbrella tree
Description: The Umbrella plant is the dwarf version of the larger schefflera acrinophylla native to Taiwan. This evergreen wields very slender stalks with oblong leaves arranged in a circular fashion at the end of each stem. This particular variegated variety will have splashes of washed out yellow on many of its leaves. 
Shipping & Returns

We offer a 30-day guarentee. Fulfillment takes approx 2-4 days and shipping 3-5 days from greenhouse to doorstep. Nov-Mar we recommend adding winter plant shipping protection to your order or it will not be covered by our 30-day guarentee.
Care Instructions

Make sure to place your plant in an area with plenty of indirect sunlight. It should receive at least 6 hours of bright, indirect light per day.
Water your plant thoroughly when the top two inches of soil has dried out. Avoid overwatering, as this can lead to root rot.
Fertilize your plant once a month during the growing season with a balanced liquid fertilizer diluted to half strength.
Share
View full details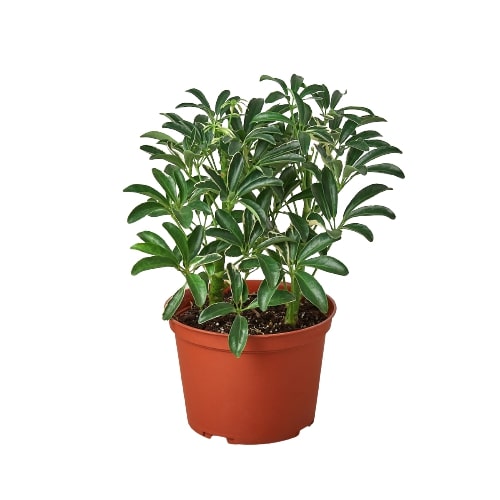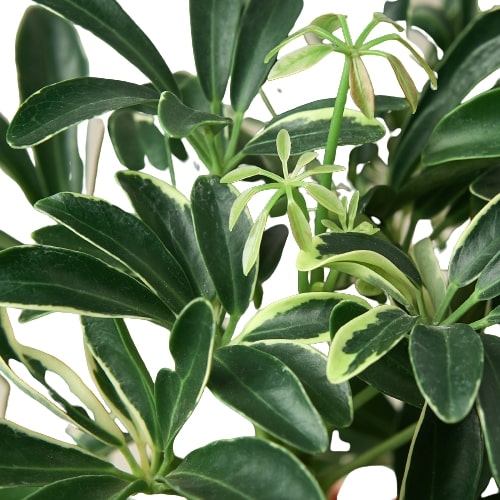 "A beautiful plant is like having a friend around the house." — Beth Ditto
Dedicated Customer Service

Helping you cultivate a greener space for an elvavted well-being.

30-Day Guarentee

Shop with confidence knowing your plant is guarenteeed to arrive in wonderful shape or we will replace it!